iPhone & Android Apps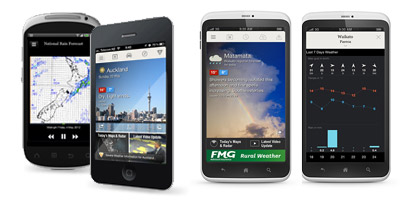 MetService brings personalised weather direct to your iPhone & Android smartphones with the MetService App and the FMG Rural Weather App – get the latest forecasts at your fingertips!.
New FMG Rural Weather App
New Zealand's favourite rural forecasts are now available in a handy smartphone app. The app is free of charge thanks to sponsorship by FMG.
Features include:
10 day regional forecasts for 29 rural regions
Severe weather information
2 hourly wind, temperature and rainfall forecasts for the next 48 hours
7.5 minute rain radar
3 day and 5 day rainfall forecast imagery
Latest MetService TV Rural Outlook video
Daily past weather for the last seven days


FMG Rural App demo:
MetService App for Towns and Cities
10 day urban forecasts, rain radar, stunning video and traffic cameras for your location all in a handy app – even the backgrounds change according to the conditions of your location. Download your personalised weather app now! Only $2.59.
Features
10 day forecasts for New Zealand Towns & Cities
Hourly forecasts for Auckland, Wellington and Christchurch
Traffic cameras updated every minute
Severe Weather Information
Latest video forecasts and updates
Live rain radar and 3-day rain forecast
Upload your own photos to suit your weather mood


Requirements for iPhone
Requirements for Android
Android Version 2.2 and above
GPS
Camera
Towns & Cities App Demo:
Screen-shots
Feedback
Please send us your feedback about anything not functioning correctly, or any questions or ideas you have about this app.
Email us at feedback@metservice.com with details of any screens/functions not working properly (including screenshots if possible). We may not respond to all emails, but we'll do our best to address any problems and your feedback is greatly appreciated.
End User Licence Agreement
Click here to read the End User Licence Agreement.