Our history
On 21 August in 1861, Dr. Charles Knight was appointed the first Director of Meteorological Stations in New Zealand.
His appointment marked the founding of the New Zealand Meteorological Service – this country's oldest continuous scientific institution. Early missionaries and settlers quickly realised our coasts were subject to rapid changes of weather, with frequent violent storms. In the 1840s and 1850s weather studies were made by military officers, but in 1859 the government put weather stations on a more formal footing.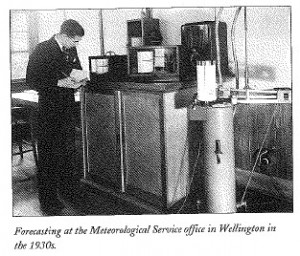 Ten permanent meteorological stations were established in 1861 and Dr. Charles Knight was appointed to control the new service.  By 1867, 26 telegraph stations were exchanging regular weather reports. In May 1874, after a spate of shipwrecks, a storm warning system was established by Commander R. Edwin RN (retd) and the first public weather forecasts were issued.
Forecasting remained a marine service until 1936 when it was attached to the newly formed Department of Scientific and Industrial Research. During World War II weather forecasting became the responsibility of the Royal New Zealand Airforce.  After the war, the weather forecasting service became a semi-autonomous branch of the Air Department.  In 1964, the passing of the Civil Aviation Act meant that the Service became one component of a new Civil Aviation Department.  A few years later, the passing of the Ministry of Transport Act 1968 meant that the Service was included in the then new Ministry of Transport.
In 1991 there was a restructuring of New Zealand's scientific institutions.  As a result, on 1 July 1992, the New Zealand Meteorological Service was split into research and forecasting.  The research component joined the National Institute for Water and Atmospheric Research (NIWA), a crown research institute specialising in scientific management of New Zealand's atmospheric, marine and freshwater systems.  The forecasting component became MetService, a state owned enterprise specialising in operational meteorology.
Today, weather forecasters have access to up-to-the-minute reports from many dedicated weather reporting stations throughout New Zealand and various offshore islands.  Along with satellite images, weather radar and regular output from several global computer models, forecasters produce a wide range of weather forecasts and warnings supporting the various sectors of the New Zealand economy.
Acknowledgments: "On this day: NZ Historic Moments", by Lorain Day and Tim Plant (2002, Reed).
"Sails to Satellites: a history of meteorology in New Zealand", by John de Lisle (1986.New Zealand Meteorological Service).